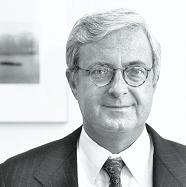 Managing Member of Globe Capital LLC
Larry S. Kopp
Larry Kopp, Managing Member of Globe Capital LLC, with affiliations in the US, Europe and Asia, is an advisor to high-growth corporations and is a member of the Board of Directors of high-technology and financial services companies operating in both private and public markets. His experiences include the launching of new high growth businesses and accelerating the revenue and profit growth of existing firms. Examples include creating the largest bank credit card business in the U.S., building an electronic consumer banking business in national markets, establishing a nationwide consumer insurance business, and helping grow a premier money management and advisory company at double digit rates.

Mr. Kopp was a Managing Director of The Russell Company in Seattle, a premier money management firm with US$1 trillion under management and consultation globally including Fortune 500 companies. He was brought in to help grow the firm's profitability and revenues to a multiple of their previous levels. Serving as a member of the Office of the Chairman and Executive and Operating Committees, accomplishments included the development and implementation of a plan to greatly increase revenues and profits so as to position the company for sale. The Company was then sold on schedule for the most ever paid for this type of firm in an all cash transaction.

Prior to The Russell Company, Mr. Kopp served in several senior executive capacities at Citicorp, then the nation's largest global financial services holding company, in New York. He was the Chairman and CEO of Citicorp Insurance, where the team managed the start-up to over US$8 billion in insurance in force in the national markets, formed strategic alliances with seven top global insurers and expanded customers to 500,000 and employees to 400. As President and CEO of Integrated Banking, Mr. Kopp was responsible for the creation, development and implementation of fully integrated electronic banking products with full savings and credit features operating on an interactive database system with 24 hour customer service, 14,000 ATMs and 4 million points of sale. As a General Manager of the Bank Credit Card Business, the team's efforts made it the largest and most profitable of Citicorp's companies after 13 years of no growth and low profits. Under his leadership, revenues grew from US$40 million to US$2.5 billion and accounts from 300,000 to 10 million, making Citicorp the largest bankcard issuer in the world.

Mr. Kopp also served as a venture capitalist and financial advisor at Warburg, Pincus & Co. Inc., the largest venture capital company and one of the most successful investment management firms in the U.S. In this capacity, Mr. Kopp advised corporations on turnarounds, restructuring, private placements, repositioning, acquisition screening, refinancing and assets sale.

Mr. Kopp advanced through 12 positions in both field and corporate posts during his 8-year stay at Trans World Airlines (TWA), then the largest combined domestic and international airline. He began as assistant to the Vice-President and General Sales Manager worldwide and concluded as Director of TWA Advertising and Sales Programs for the U.S., Europe and the Far East. Some examples of accomplishments included increasing domestic market share by 33%, achieving international and domestic growth rates of up to 35% annually, the market re-entry of the airline after a major strike and fuel crisis, and creating worldwide leisure travel and student benefits programs.

In Washington, Mr. Kopp has served as Chair of the Advisory Board for the Business Program in the University of Washington System and on the Boards and Executive Committees for the World Trade Center and the Symphony. He has also been elected a Trustee of the Washington State Historical Society.

In New York, Mr. Kopp has served on the Board of Directors and Advisory Committee of the Venture Investors Association of New York. (formerly the Venture Capital Association of New York)

Mr. Kopp received his BA in Economics and Psychology from Stanford University and an MBA in Marketing and Finance from Stanford University's Graduate School of Business.